Let op: Tweakers stopt per 2023 met Tweakblogs. In
dit artikel
leggen we uit waarom we hiervoor hebben gekozen.
This post was written by Raedwulf, a raid leader of the Raids'R'Us group.
Yes, Runing; not running! Given what I'm like as a Loremaster, every cat that expressed an opinion reckoned I'd be going for a Runekeeper. Who am I to disappoint, eh? I took Angrenar for a run on the afternoon of the first day & got him more or less to the end of the Intro & L5; then as others came on in the evening, starting their Wardens & Keepers, out he came for some more practice, this time in fellowship. Most of the time, we had 2 Wardens (Rhyaewald & Tierlo), & 2 Keepers (Feylanna (Sil) & myself), briefly adding a 3rd Warden who happened to be in the vicinity. By the end of the night, we were all level 12, I think, so these comments should reflect a nice mix of the early stages of the new stuff.
Read more »
With the release of Lord of the Rings Online: The Mines of Moria, we have seen the addition of the Warden class. After the short
introduction
to the class earlier, I've been able to play a Warden last night. My first impression: it's
good
!.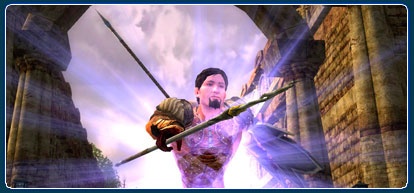 Read more »
"Able to utilize the true power of words and writing, a Rune-keeper can devastate enemies or inspire allies. Rune-keepers wield elemental Rune-stones which are covered with writing. Through these stones and other tools, the Rune-keeper is able to harness runic energy and rain destruction or restore morale."
Read more »
"Devoted to slowing the encroaching evil of Sauron, the Warden protects those who cannot protect themselves. A fierce determination to succeed at her given task inspires the Warden, and allows her to keep up her own morale through even the darkest of battles."
Read more »