Let op: Tweakers stopt per 2023 met Tweakblogs. In
dit artikel
leggen we uit waarom we hiervoor hebben gekozen.
Everything related to the new content in the first Lord of the Rings Online expansion will be posted here.
With the introduction of the Mines of Moria to the world that is Lord of the Rings Online, a brand new system has been introduced, unseen in MMO land. Where traditional MMOs allow you to level a character to a certain point, known as a level cap, armours, weapons and the likes have always been static. You've obtained the item and that was it. Mines of Moria changes this forever.
Read more »
This post was written by Raedwulf, a raid leader of the Raids'R'Us group.
Yes, Runing; not running! Given what I'm like as a Loremaster, every cat that expressed an opinion reckoned I'd be going for a Runekeeper. Who am I to disappoint, eh? I took Angrenar for a run on the afternoon of the first day & got him more or less to the end of the Intro & L5; then as others came on in the evening, starting their Wardens & Keepers, out he came for some more practice, this time in fellowship. Most of the time, we had 2 Wardens (Rhyaewald & Tierlo), & 2 Keepers (Feylanna (Sil) & myself), briefly adding a 3rd Warden who happened to be in the vicinity. By the end of the night, we were all level 12, I think, so these comments should reflect a nice mix of the early stages of the new stuff.
Read more »
With the release of Lord of the Rings Online: The Mines of Moria, we have seen the addition of the Warden class. After the short
introduction
to the class earlier, I've been able to play a Warden last night. My first impression: it's
good
!.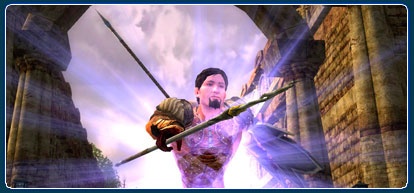 Read more »
"Able to utilize the true power of words and writing, a Rune-keeper can devastate enemies or inspire allies. Rune-keepers wield elemental Rune-stones which are covered with writing. Through these stones and other tools, the Rune-keeper is able to harness runic energy and rain destruction or restore morale."
Read more »
"Devoted to slowing the encroaching evil of Sauron, the Warden protects those who cannot protect themselves. A fierce determination to succeed at her given task inspires the Warden, and allows her to keep up her own morale through even the darkest of battles."
Read more »